Appear for Remote Hearings Via Zoom
To join the zoom hearing by video click here.  To appear by video, you will need an electronic device (smart phone, tablet, laptop, desktop) that has a webcam with sound and video. Most devices will require you to download zoom to your device before the video court can begin. You will be prompted to download zoom when you try to join the meeting using the meeting id provided.
To join the zoom hearing by Audio or Phone only, please dial 1-312-626-6799 and enter your meeting id when prompted.
ALERT!  Lyon County courtrooms 2, 3, 4, and 5 no longer stream to YouTube.  You must use the links on this website to view court hearings.
Links to the Judges' live streams and calendars
Warning:  Recording, video/audio taping, photographing or otherwise reproducing, saving and/or distributing the remote courtroom proceedings is strictly prohibited by Kansas Supreme Court Rules, 1001, 1002, and further clarified by local administrative order 2018-31.  Violation of these orders is subject to the penalties for contempt of court.
Warning: Mature subject matter being streamed.
ATTENTION: Cases on the court calendar with the letters AD, CT, DM, JC, and JV are confidential and will not be live streamed. 
Lyon County
Courtroom 2: Judge Larson's Livestream
Courtroom 3: Judge Wheeler's Livestream
Courtroom 4: Judge Fowler's Livestream
Courtroom 5: Judge Jones' Livestream
Small Claims Court Livestream: Monday at 5
Lyon County Court Calendar: click here
Chase County
District Courtroom Livestream
Chase County Court Calendar: click here
ALERT! Kansas Courts' response to the Coronavirus (COVID-19)
Lyon County Courthouse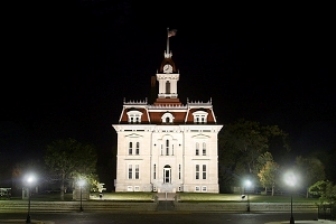 Chase County Courthouse
Court Payments

may be made using a

Credit Card

online at www.citepayusa.com/ks There is a 4% convenience fee added to each transaction.
New!  Supreme Court Issues new Administrative Orders.
Supreme Court Presents the 2020 Annual Report on the State of the Judiciary - 06-02-2020. View the Report here.